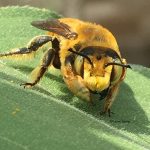 Native Wildlife Management for Tax Valuations
The Texas Parks and Wildlife Department Non-game and Rare Species Program has recommendations for landowners that want to manage habitat for native insect pollinators, including native bees. These differ from guidelines designed for non-native Western honey bees (Apis mellifera), that currently help bee-keepers' land qualify for tax valuations.
In the near future, native pollinators, including hundreds of native bee species, may be considered as wildlife whose habitat can be managed for tax appraisal purposes. Currently, land that qualified for agricultural tax appraisals the last 5 years may transition to wildlife use so that populations of some large indigenous species can be managed in addition to, or instead of, the crops that are produced on the land. Equivalent tax valuations apply to the land whether it's managed for agriculture, timber or wildlife use. The state Comptroller's Office administers these special appraisals through each CAD office.
For land to qualify for a wildlife tax appraisal, landowners must implement management practices that sustain populations of the species in question. To this end, landowners must write and submit a wildlife management plan (such as this WMP) that includes 3 of 7 management practices listed below and described in the 1-D-1 (Open-Space) form.  TPWD biologists or USDA-NRCS providers can give guidance on wildlife management plans.
Tips for Managing Native Pollinator Wildlife  
To sustain healthy populations of wildlife, a landowner can implement 3 of 7 measures: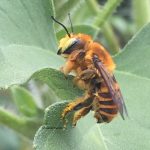 If tax incentives are given for native pollinator habitat management, landowners may choose to do pollinator censuses. The Jha Lab would encourage the use of standardized pollinator survey guidelines and data sheets designed to be used with our Texas pollinator and bee guides. We could also help analyze survey results to visualize trends and gauge management success -a component of annual reports required by tax appraisers. Survey data could be put on our Pollinator Survey Google Form, emailed or mailed to us at the addresses below.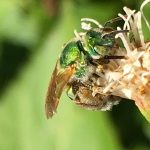 More Information on Native Pollinators & Private Lands
Texas Comptroller's Office – Property Tax Assistance Division – Wildlife, (800) 252-9121
https://comptroller.texas.gov/taxes/property-tax/video/wildlife-manage-use/story.html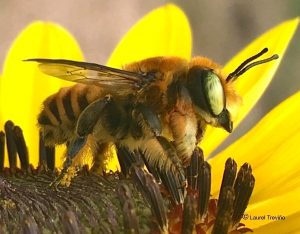 Naturalists, Citizen Scientists, Educators
You can ID native pollinators in your area with our Texas Pollinator Guides. You can use these leaflets with conservation and survey information in your classroom or field trip (folding layout).
Laurel Treviño – Outreach Program Coordinator
205 W. 24th Street
BIO Labs 401
The University of Texas at Austin
Department of Integrative Biology
College of Natural Sciences
Austin, TX 78712
ltrevino@austin.utexas.edu
Photos and illustrations – Laurel Treviño M.