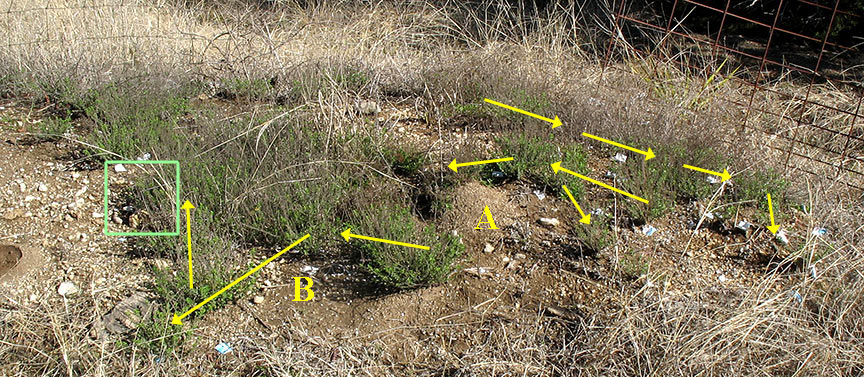 Mound of creek soil with natural volunteer population of H. r. serpyllifolia. Arrows show route of sample collection on March 11.
'A' is an anthill; 'B', area of armadillo damage. Click in the green box for enlarged images of that plant.
Hedeoma reverchonii var. serpyllifolia Leaf Sets 11 March 2014
by Bob Harms

Branches of 29 H. reverchonii var. serpyllifia plants in a test group with winter/early spring leaves were collected and immediately scanned at 2400 dpi resolution on 11 March 2014. A population of 50 plants has been documented with photos and scans for over a year, but several plants have died or otherwise suffered. I had 29 collections vials immediately available and I decided that 29 collections would suffice for my study. The plants for collection were chosen along a line around the base of the mound with nearly a hundred plants until all vials were used. With each plant a stem was selected that had leaves with long hairs near the base — these were late fall/early winter leaves. All stems had newer late winter growth without long hairs.
Shown below are stems no. 1, 6, 11, 16, 21, 26. Click on the yellow number to view all stems in each of six sets with stems beginning with that number, numbered left to right.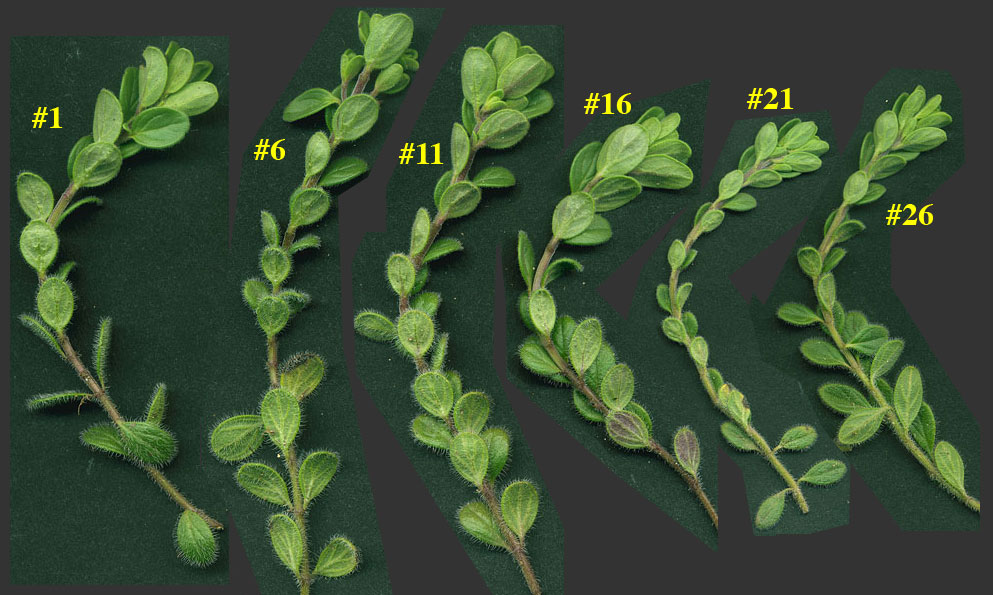 For each stem a leaf at the base and one just below the apical cluster were copied from the scan and presented below — thus the image consists of 29 pairs:upper with short hairs and lower with long hairs; in 6 sets numbered from left to right; i.e., row 1: 1—5 + 6—9; row 2: 11—15 + 16—20; row 3: 21—25 + 26—30.
Click on a cell to bring up a page with a larger version of the leaves of that cell and 10 mm scales.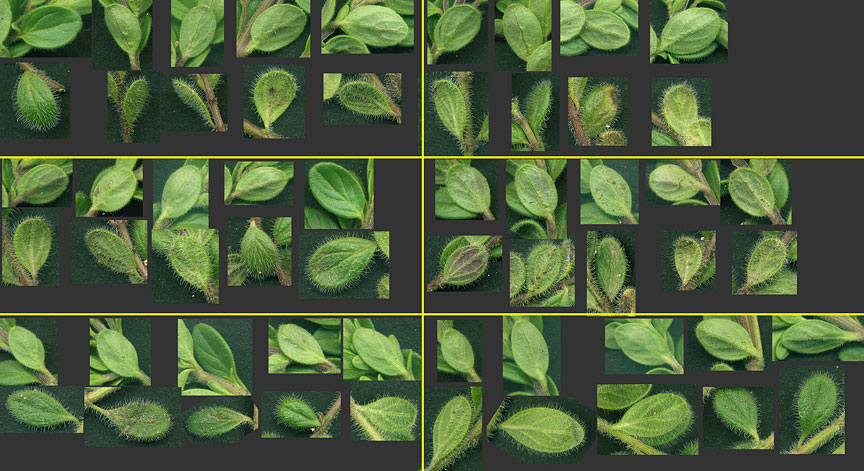 ---
Plant Resources Center Home Page — Flora of Texas — Hedeoma