Click for large image
| | |
| --- | --- |
| H, drummondii | H. reverchonii var. serpyllifolia |
Winter Greenhouse Plants: Hedeoma drummondii & H. reverchonii var. serpyllifolia
by Bob Harms

On December 2 several plants with well established winter leafs, H. drummondii and H. reverchonii var. serpyllifolia, were transplanted into pots in town to permit observation of their development. With an impending hard frost I decided to move these into my greenhouse, also in part motivated by a squirrel digging in my pots. [Potted plants in our much colder hill country place did not suffer from cold, and squirrels were not a threat.] With abundant moisture and somewhat weaker sunlight, by late February the greenhouse plants had grown larger and lanky, with long internodes in the new growth — not matched, of course, by either natural populations or those in pots outdoors (which did not differ from plants in the wild).
Of interest is that the two taxa (shown above) remain quite distinct in both the winter leafs and the larger new growth leafs. On February 20 one fully developed large leaf and one winter leaf were collected from each and imaged. The length width ratios for the large leafs were HEDR 1:4.6 and HERES 1:2.2; for winter leafs HEDR 1:2.5 and HERES 1:1.6.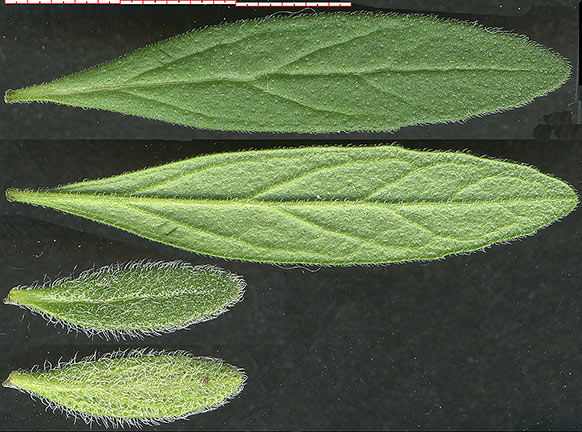 H. drummondii

The pinnate venation of the larger winter leafs was more apparent, and clearly revealed by transparency scanning. Winter leafs seem to be thicker, less translucent, but venation is nonetheless stronger with var. serpyllifolia.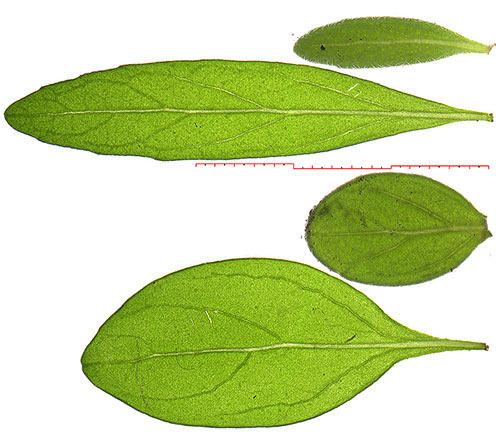 Transparency scans
Other differences noted for the two taxa were:
Pubescence, length, density and orientation of winter leaf hairs.

H. drummondii
H.r. var. serpyllifolia
longest hairs
0.45—0.55 mm
0.7—0.95 mm.
hair density per sq. mm
c. 15
c. 10
orientation: leaf
curved toward apex
spreading
orientation: stem
curved downward


With H. drummondii hair orientation matches that of mature leafs; not so with H.r. var. serpyllifolia.

H. drummondii
H.r. var. serpyllifolia
Click on image for large version.

Presence and density of glands (number per 2 sq. mm). An attempt was made to define a 2 mm2 area with the greatest number of glands. H. drummondii leafs had a large number of glands and the relatively expanded larger leafs showed less density. The near absence of glands with H.r. var. serpyllifolia stands in sharp contrast with mature growing season leafs.

H. drummondii
H.r. var. serpyllifolia
winter
large
winter
large
upper surface
33
21
c. 1
< 1
lower surface
31
21
< 1
0

2 mm2 area of upper leaf surface.
---
Plant Resources Center Home Page — Flora of Texas — Hedeoma