To Gideon Lincecum Virtual Herbarium
The Gideon Lincecum Herbarium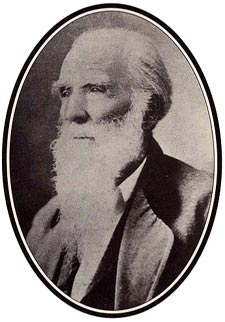 Dr. Gideon Lincecum on his 80
th
birthday,
photographed at a studio in Austin.
Courtesy Dolph Briscoe Center for American History
The University of Texas in Austin
(Click to enlarge.)
Gideon Lincecum (1793-1874) was a botanic physician and naturalist who lived and practiced medicine in Mississippi and Texas during the nineteenth century. The Gideon Lincecum Herbarium is a collection of 313 herbarium specimens, collected and prepared by Lincecum, that documents the medicinal plant taxa used by Lincecum in his practice.
Lincecum pressed and dried cuttings of 286 medicinal plant taxa and mounted each on a sheet of paper.
He then annotated the specimens with their scientific and common names, including American Indian common names where they were known to him. Lincecum used the classification system in place during the nineteenth century; his annotations document species placement in the "artificial" classes and orders of the Linnaean system and in the "natural" orders of de Jussieu.
Lincecum's ethnobotanic annotations provide extensive information on the medical properties of each taxon, and the methods of preparation for and application of the medicines.
The herbarium specimens are part of the Gideon Lincecum Collection (GLC), which is archived in the Dolph Briscoe Center for American History at the University of Texas at Austin.
The Gideon Lincecum Herbarium provides a fascinating and accurate record of a nineteenth century medical pharmacopoeia. It documents a large number of medicinal plants and is one of a small number of nineteenth century pharmacopoeias that are supported by herbarium specimens, known as "voucher specimens", which make it possible to confirm or correct Lincecum's original identifications (Birch, 2004; 2009).
Gideon Lincecum's Life and Medical Practice
Lincecum was born on April 22, 1793 in Warren County, Georgia and migrated south following the Euro-American settlement frontier, finally settling in Columbus, Mississippi in 1818. Lincecum established his first medical practice in Columbus in 1830, without any formal training except for a period of time spent "reading in medical works" under the guidance of Dr. Henry Branham of Eatonton, Georgia (Lincecum and Phillips, 1994). After early disillusionment with the dangers and inefficacy of standard allopathic medicine, Lincecum became largely a botanic physician and he followed primarily botanic medical practices. He relied solely on remedies obtained from plants and avoided the use of mineral drugs (such as mercury, lead, and arsenic) that were in widespread use in allopathic medicine during the nineteenth century (Birch, 2009).
Lincecum resided in the Choctaw and Chickasaw Nations from 1822-1825 and 1825-1826 respectively and became fluent in both the Choctaw and Chickasaw languages during this time (Burkhalter, 1965). In the early 1830s Lincecum spent six weeks with Alikchi chito (great doctor), a Choctaw doctor from the Six Towns district, learning about Choctaw medicinal plants. Lincecum provides ethnobotanic data for twenty-two taxa that were utilized by the Creek, Choctaw, and Chickasaw. The GLH is one of a small number of primary sources that document early nineteenth century Chickasaw, Choctaw, and Creek pharmacopoeias prior to the enforced removal of these groups east of the Mississippi River from 1831 to 1839 (Campbell, 1951).
Lincecum moved to Long Point, Texas with his family in 1848 and he once again established a medical practice there. He received a license to practice medicine in Washington Country, Texas in 1866.
| | |
| --- | --- |
| Announcement of medical practice. | Medical license. |
Lincecum was an avid naturalist and during his residence at Long Point, Texas, he made extensive floral and faunal collections. Lincecum published several scientific articles during this time and sent collections to scientists at the Philadelphia Academy of Natural Sciences and the Smithsonian Institution in exchange for collection equipment and scientific literature (Lincecum et al. 1997). Lincecum died on November 28, 1874 and is buried at the State Cemetery in Austin, Texas (Lincecum and Phillips, 1994).

.
Bibliography
Birch, J. L. 2004. The Gideon Lincecum Herbarium: A floristic and ethnobotanic analysis. M.A. Thesis. School of Biological Sciences, University of Texas at Austin, Austin, Texas. [Download as PDF file (2 MB)]
Birch, J. L. 2009. A Comparative Analysis of Nineteenth Century Pharmacopoeias in the Southern United States: A Case Study Based on the Gideon Lincecum Herbarium, Economic Botany, in press.
[On-line access to the article: forthcoming] [Download PDF file (120 KB) with supplemental data for the article]
Burkhalter, L. W. 1965. Gideon Lincecum 1793-1874; A biography. University of Texas Press, Austin, Texas
Campbell, T. N. 1951. Medicinal plants used by Choctaw, Chickasaw, and Creek Indians in the early nineteenth century. Journal of the Washington Academy of Sciences 41: 285-290.
Lincecum, J. B. and E. H. Phillips. eds. 1994. Adventures of a frontier naturalist: The life and times of Dr. Gideon Lincecum. Texas A&M University Press, College Station, Texas.
Lincecum, G. 1997. Science on the Texas Frontier: Observations of Dr. Gideon Lincecum. J. B. Lincecum, E. H. Phillips, and P. A.Redshaw, editors. Texas A&M University Press, College Station, Texas.