Laurel Treviño developed the educational content in this page and the material linked to it. Please, direct any questions or comments to her (see bottom of page). You may use this material for educational and conservation purposes.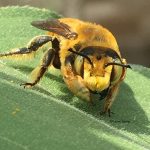 Native Wildlife Management for Tax Valuations Includes Native Pollinators!
The Texas Parks and Wildlife Department has guidelines for those who want to manage native insect pollinator habitat on their land. These differ from the guidelines designed for beekeepers who manage Western honey bee (Apis mellifera) apiaries on their land for tax valuations.
Land that has had an agricultural tax valuation for 5 years may transition to wildlife use. Habitat can be managed to sustain populations of indigenous wildlife species, including native pollinators. Wildlife habitat can be managed in addition to the current land production as long as it is not detrimental to the targeted wildlife species. Equivalent tax valuations apply whether the land is managed for agriculture, timber, ranching or wildlife. The state Comptrollers Office administers these special appraisals through county appraisal district offices (CAD).
For land to qualify for an appraisal based on wildlife use, landowners must implement management practices to help sustain breeding populations of a targeted species. To this end, land managers must design a Wildlife Management Plan as a component of their application. Seven management practices are described in the 1-D-1 (Open-Space) form. In some counties, TPWD biologists or USDA-NRCS providers may offer general guidance on completing the form or wildlife management plans.
A management plan should include the following sections; map and description of the property, wildlife habitat description, history of land use and wildlife, goals and objectives, management practices and schedules, and record keeping. For example, a goal may be to conserve, improve or restore habitat for a wildlife species. Monitoring population abundance or species diversity helps gauge the impact of management practices on the habitat. This would require scheduled surveys over a 3-year period. Food and nesting resources are crucial for wildlife. Our Outreach Program can provide guidance on native pollinator resources and monitoring. Here is an example of food resources for native bees in Central Texas, Texas prairie plants for native bees.pdf and below, we provide more information on pollinator surveying.
Tips for Managing Native Pollinator Wildlife  
To sustain healthy populations of wildlife, a land manager must implement at least 3 of 7 practices specified in a management plan. These are summarized below in three areas: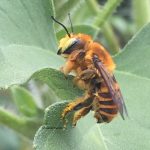 Pollinator surveys are used as tools to check the impact of habitat management practices. The Jha Lab encourages the use of standardized pollinator survey guidelines and data sheets that are designed to be used with our Texas pollinator guide. We can help analyze survey results to visualize trends and gauge the impact of management practices. Survey data that is gathered on our data sheets can be mailed or emailed to the addresses below.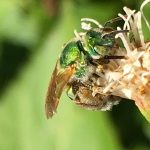 Information on Native Pollinators & Private Lands
Texas Comptroller's Office – Property Tax Assistance Division – Wildlife, (800) 252-9121
https://comptroller.texas.gov/taxes/property-tax/video/wildlife-manage-use/story.html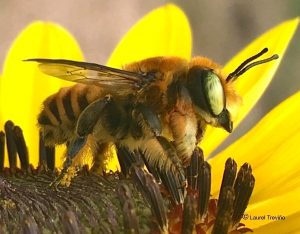 Naturalists, Citizen Scientists, Educators
ID native pollinators in your area with our Texas Pollinator Guides (use this Index). These leaflets are packed with conservation and survey information for your classroom or field trips (folding layout).
Laurel Treviño Murphy – Outreach Program Coordinator
205 W. 24th Street
BIO Labs 401
The University of Texas at Austin
Department of Integrative Biology
College of Natural Sciences
Austin, TX 78712
ltrevino@austin.utexas.edu
photos & illustrations by Laurel Treviño