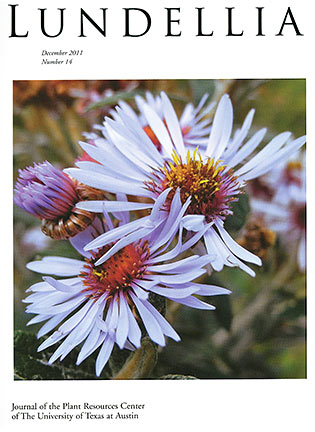 Contents:
Abstracts
Ramalina mahoneyi
, A New Corticolous Lichen from a Western Guatemalan Cloud Forest
3—7
Abstract: Ramalina mahoneyi Quedensley & Véliz, is described from Pico Zunil in Guatemala. Ramalina mahoneyi morphologically appears closely related to R. celastri (Sprengel) Krog and Swinscow, but its apothecial discs are peach-colored and marginal, the thallus is gray-blue and overall much smaller than that of R. celastri.
Resumen: Se describe Ramalina mahoneyi Quedensley & Vélez como especie nueva del Pico Zunil, Guatemala. Basándose en su morfología, la especie nueva parece estar estrechamente relacionada con R. celastri (Sprengel) Krog & Swinson, pero difiere por tener los discos apoteciales marginales y de color durazno, y el talo de color gris-azul y en conjunto, mucho más pequeño que el de R. celastri.
Return to Vol. 14 Contents
A Study of
Chaptalia
(Asteraceae: Mutisieae) in Central, Southern, and Western Texas and the Resurrection of
Chaptalia carduacea
8—26
Abstract: Recent authors have considered there to be just one species of Chaptalia in central, southern, and western Texas and have called it C. nutans, C. nutans var. texana, or C. texana. Field studies in Travis and Hays counties indicate the existence in that area of two populations with morphological, phenological, and behavioral differences, and revision of herbarium material shows that they correspond to two distinct taxa that occupy different but partially overlapping ranges in Texas and northern Mexico. Evidence is provided in support of their recognition as distinct species that correspond to C. texana and C. carduacea, both described by E. L. Greene. Descriptions of the two species and a revised key for Chaptalia in Texas are provided.
Return to Vol. 14 Contents
Systematics of the
Rhynchosia senna
Complex (Fabaceae)
27—31
Abstract: The Rhynchosia senna complex is treated as having four species: R. senna and R. azuaensis, confined to South America; R. prostrata, confined to North America; and R. texana, occurring in both North and South America. One new combination, Rhynchosia azuaensis (Grear) B.L. Turner, stat. nov. is proposed. A key to the taxa is provided, along with maps showing their distribution.
Return to Vol. 14 Contents
A Nomenclator Of
Diplostephium
(Asteraceae: Astereae): A List of Species with their Synonyms and Distribution by Country
32—51
Abstract: Since the description of Diplostephium by Kunth in 1820, more than 200 Diplostephium taxa have been described. In the absence of a recent revision of the genus, a nomenclator of Diplostephium is provided based on an extensive review of the taxonomic literature, herbarium material, and databases. Here, 111 species recognized in the literature are listed along with their reference citations, types, synonyms, subspecific divisions, and distributions by country. In addition, a list of doubtful names and Diplostephium names now considered to be associated with other taxa is provided.
Resumen: Desde la descripción del genero Diplostephium por Kunth en 1820, mas de 200 nombres han sido publicados bajo Diplostephium. En ausencia de un estudio taxonómico actualizado, se presenta una lista de nombres de Diplostephium basada en una revisión extensiva de la literaura taxonómica, material de herbario y bases de datos. En este estudio se listan las 111 especies reconocidas hasta ahora, incluyendo información acerca de la publicación de la especie, tipos, sinónimos, división subgenérica y distribuciones por país. Adicionalmente se provee una lista de nombres dudosos y nombres de Diplostephium que se consideran estar asociados con otros taxones.
Return to Vol. 14 Contents

Lundellia Home Page
---
U. Texas at Austin | Plant Resources Center | Contact Us