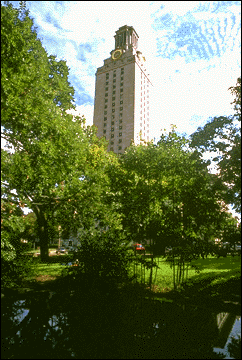 The Billie L. Turner Plant Resources Center is a basic resource for research and education in plant classification and ecology. Our responsibility and challenge is to make the collection as useful as possible to those who need to use and consult it while maintaining its scientific value undiminished and even enhanced for future users. Unlike a library, every single specimen in the herbarium is irreplaceable.
We are located in the Tower on the campus of The University of Texas at Austin. Our main entrance is Room 127 located on the east hallway on the first floor (one up from ground). The collections are housed on eight floors within the Main building and Tower and are arranged in a modified Engler and Prantl system.
Access and Use
The Billie L. Turner Plant Resources Center is open for general use 8:30-5:00 P.M., Monday through Friday. Visitors wishing to use the collection for research or identification are welcome so please contact the curator for an appointment. Use of the herbarium for teaching is encouraged, but those wishing to set up tours or activities should contact the curator. Scientists wishing to consult the collections for extended periods may be furnished research space upon formal request to the curator outlining their research objectives and funding sources. Scientists wishing to use material for studies that include sampling of specimens should consult our policy on the use of our collection for such studies.
Curator contact information:
Dr. George Yatskievych
Office: 127D Main Building
Telephone: (512) 471-5904
email: george.yatskievych@austin.utexas.edu
Click for an image/map of the area.


Mailing address (for U. S. Postal Service, Fedex, UPS, and similar):
Plant Resources Center
The University of Texas at Austin
Main Building, Room 127
110 Inner Campus Drive Stop F0404
Austin, Texas 78712-1711

phone: 512-471-5904