by Bob Harms


Young madrones with brown leaves at E edge of oak–juniper grove above Glen Rose shelf.
26 September 2009 [The drought had ended on September 12.]
Madrones' Resistance to Drought in 2008–2009
Although 2008–2009 saw the most severe drought recorded for N. Hays County, it did not kill a single madrone, large or small. The first signs of stress did not appear until late summer of 2009: leaves drooping and even a few turning yellow–reddish–brown, dying. I photographed the plant shown below because it was not typical; most were unaffected in early August. [I have never watered any naturalized madrones of any size during dry spells, and this drought was no exception. In my opinion watering plants in an otherwise dry environment will attact potentially dangerous pests above and below ground.]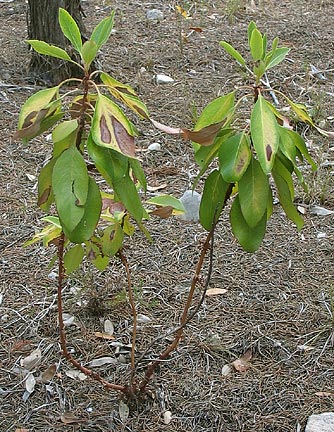 Small madrone showing signs of stress, 9 August 2009.
By early September most plants were clearly stressed. I documented this on September 10. To my surprise the drought was essentially broken with a storm that brought 2.5 inches of rain on September 12. The photo series below shows that within a single day, the drooping green leaves had become erect. This was the case with all stressed madrones, and with subsequent rains through December, all madrones have developed new leaves. The older, dying leaves have turned brown — as shown in the image at the top of this page.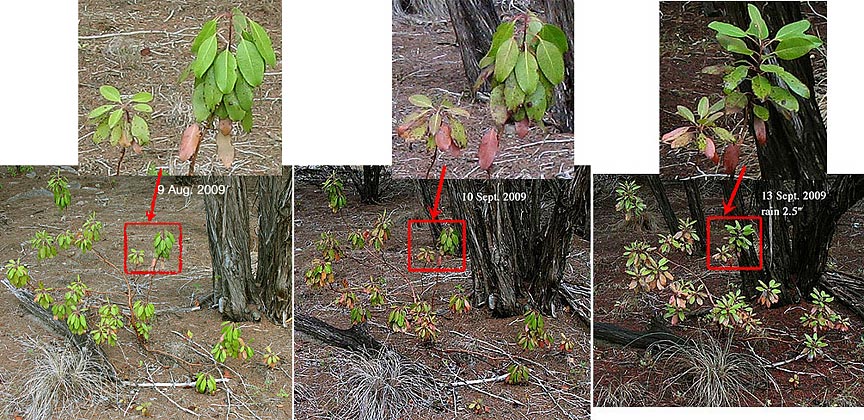 A young madrone shown on August 9, September 10 and, immediately after a 2.5" rain, on September 13.
By early December it had many new leaves.
---
---
Plant Resources Center Home Page — Flora of Texas — Texas Madrone