The Jha Lab in 2017 (from left to right) Dr. Shalene Jha, Dr. Elinor Lichtenberg, Laurel Treviño, Nick Ivers, Kim Ballare, Sarah Cusser, Nate Pope, Megan O'Connell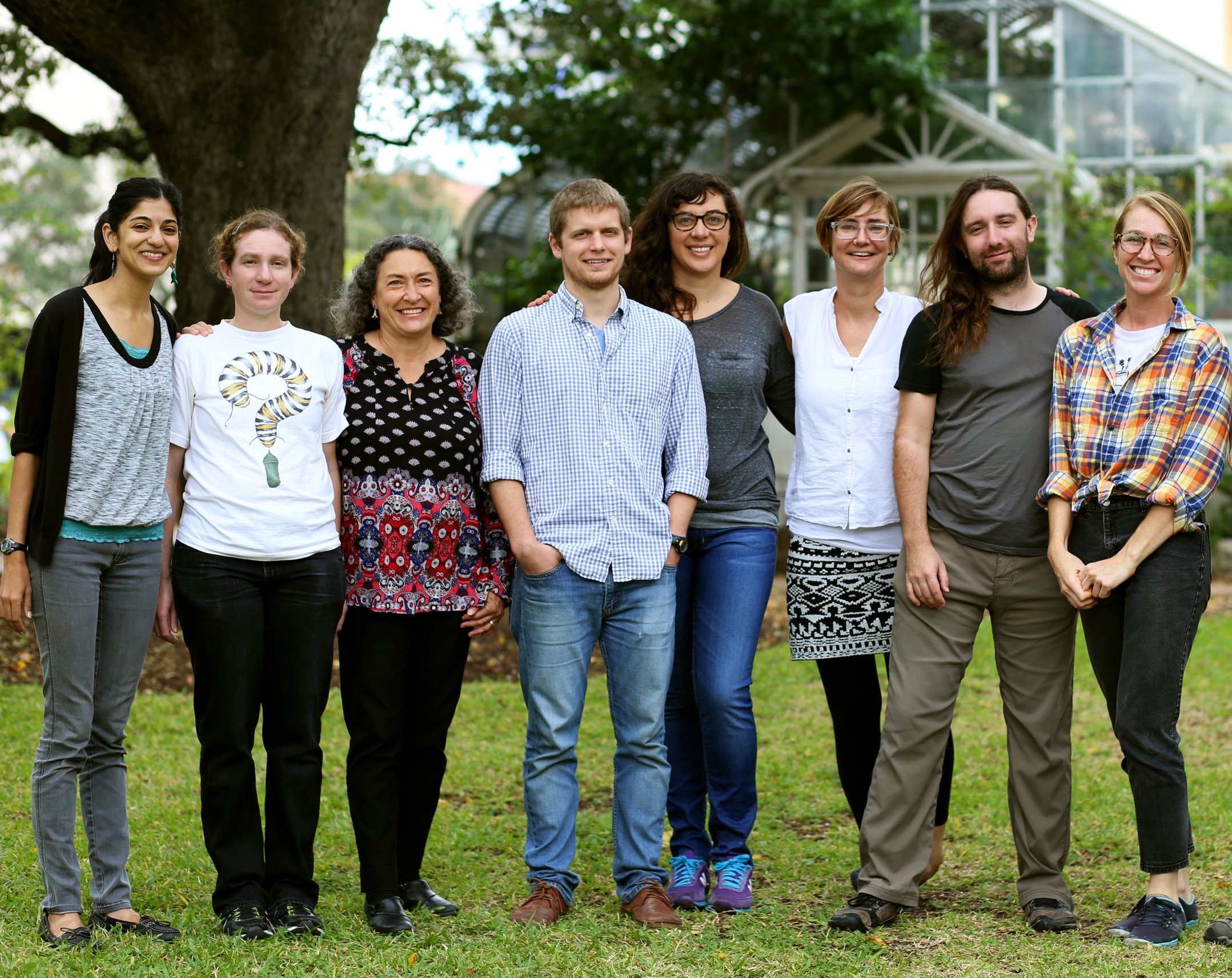 Below: 2014 (top left to bottom right) Kim Ballare, Nate Pope, Alan Ritchie, Rebecca Ruppel, Sarah Cunningham, Hollis Woodard, Laurel Treviño, Antonio Castilla, Shalene Jha, Sarah Cusser, Esther Schenau, Megan O'Connell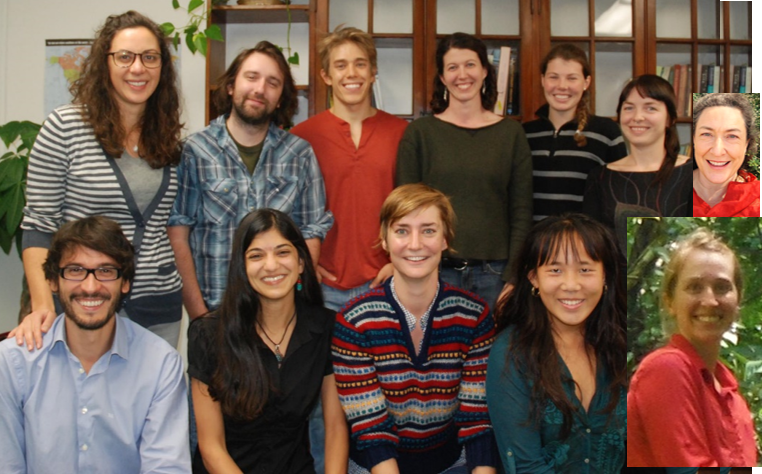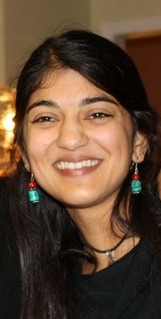 Principal Investigator, Associate Professor: 
Dr. Shalene Jha is a conservation biologist specialized in the fields of landscape genetics, population ecology, and foraging ecology.  Her work examines how landscape composition influences gene flow processes, foraging patterns, and population viability for plants and animals. She has experience in population genetics, movement modeling, GIS, and ecosystem service science, and she conducts her research internationally, across temperate and tropical ecosystems. You can view Shalene's CV.
Laurel Treviño does research and public engagement on plants and pollinators. She has a B.S. in Biology, UNAM Mexico, and  Masters in Botany & Wildland Resource Sciences, UC Berkeley.
Postdoc: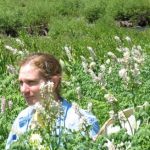 Dr. Elinor Lichtenberg is interested in pollinator conservation and how interactions among animals alter plant-animal interactions. Her research in the Jha lab focuses on pollinator community ecology under experimental restoration of prairie habitat. Elinor's research employs field, lab and quantitative approaches. She will start as an Assistant Professor at the University of North Texas in 2020 – website
Graduate Students:
Megan O'Connell is interested in the effects of climate and land-use change on plant-pollinator dynamics and the genetic diversity of plant populations in tropical forests. She is active in science o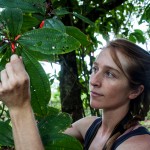 utreach and communication, and works on media projects that focus on scientific awareness at home and abroad – website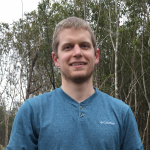 Nick Ivers is interested in conservation genetics and disease ecology. He is working to understand how land use affects population genetic structure and local variation in parasite abundance among native bees. nivers@utexas.edu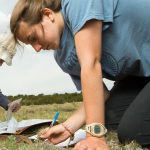 Camila Cortina is interested in how land-use affects pollinator population dynamics through the lenses of population and landscape genetics. She would like to use the knowledge she gains through her research to help inform others on how to make the environment a better place for all walks of life.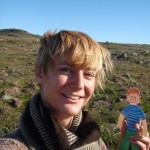 Dr. Sarah Cusser is interested in how habitat disturbance, whether it be agricultural, industrial, or urban, affects pollinator communities and plant-pollinator interactions. She's also interested in how efforts to restore degraded or disturbed habitats influence those interactions. She really likes bees, and wishes there were more of them. After obtaining her Ph.D., she moved to Kalamazoo, MI. sarah.cusser@gmail.com – website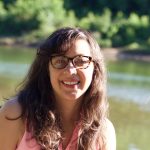 Dr. Kim Ballare has interests in ecology and evolution, including conservation genetics, landscape ecology, and urban ecology. Her PhD research focuses on plant-pollinator interactions; how urban landscapes shape native bee communities and how they affect genetic population structure and local adaptation. She is currently at UC Santa Cruz. kim.ballare@gmail.com – website
Dr. Nathaniel Pope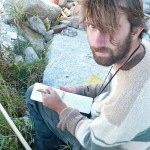 did research on the influence of parasites on the dispersal ability, foraging behavior and reproductive success of bees.  More broadly, he is interested in how the tools of population genetics and landscape ecology can be used to infer patterns of movement and behavior in agro-ecological systems.  He also has an inordinate fondness for statistical modeling, and bee phylogeny and taxonomy. npope@coa.edu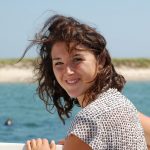 Dr. Emlyn Jane Resetarits is interested in how species interactions affect communities and ecosystems. She works on understanding how interspecific interactions (among protists and parasites; daphnia and snails) alter sociality and how scale influences species interactions and ecosystem functions. eresetarits@utexas.edu
Bee Guru: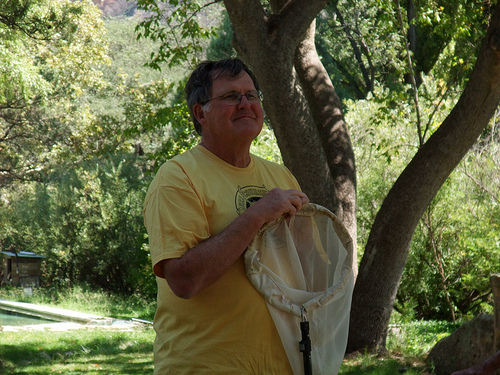 Dr. Jack Neff is a key collaborator and our lab's lifeline to understanding the bees of Texas and the southern US.  We are so lucky that Jack runs the Central Texas Melittological Institute out of Austin.  He provides invaluable insight on natural history, contemporary ecological interactions, and critical evolutionary processes for Texas native bees.
Former Lab Members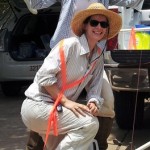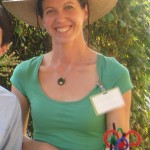 Lab Managers: Clare Glinka helped get our field – lab projects going! her M.S. in Plant Biology focused on plant-microbe interactions, University of Texas, Austin.
Rebecca Ruppel got her M.S. at Syracuse University studying patterns of inheritance in polyploid plants; she worked in Judie Bronstein's lab, University of Arizona.
Postdocs: Dr. Antonio Castilla works on ecology and evolution of plant-animal interactions, landscape genetics, plant mating systems & spatial ecology (left) website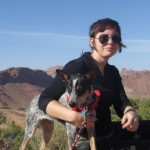 Dr. Hollis Woodard, NIFA postdoc studies nutritional ecology and conservation of native bees, focusing on effects of nutrient limitation on behavior & development in bumble bee life cycles. She's assistant professor at University of California, Riverside website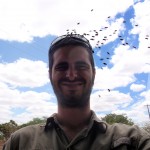 Visiting Scholar: Dr. Rodolfo Jaffe-Ribbi investigates the relationship between land use and bee population dynamics; population genomics of bees; the interphase between pre-copulatory and post-copulatory sexual selection in social insects; and beekeeping as a sustainable development tool. He's a research scientist at the University of Sao Paolo and the Vale Institute of Technology (left) website
Current Undergraduate Students:
Sam Wilhelm is a 3rd year geography student interested in plant and pollinator conservation. He is currently working on a project studying angiosperm response to controlled burns in the prairie restoration project (left)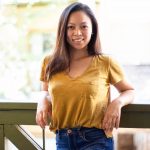 Shannon Dang majors in economics and linguistics. Her interest in biology lead her to the Jha lab where she helps curate field collected insects for the prairie restoration project (right)
Former Undergraduate Students: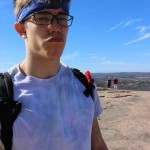 Alan Ritchie: Evolution, Ecology & Behavior – conservation biology, impacts of agriculture on pollinator communities, farmer-pollinator relationships (right)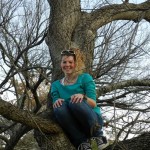 Sarah Cunningham:  Environmental Sciences conservation biology, field work, plant & butterfly identification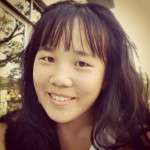 Esther Schenau: Computational Biology bee sample genetics, art & insect photography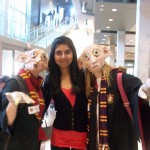 Karima Khimani biology genetics, environmental effects on gene flow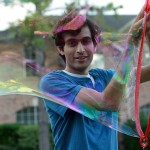 Mustafa Saifuddin  Biology Plan II major,  bee foraging thesis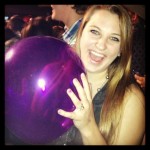 Emily Wagner pre-med/human bio genetics of communication

Ashley Doucet
human bio/pre-med/genetics & expert bee-hunter
2013 Clare Glinka, Kelvey Merill, Brittany French, Sarah Cunningham, Rebecca Ruppel, Alan Ritchie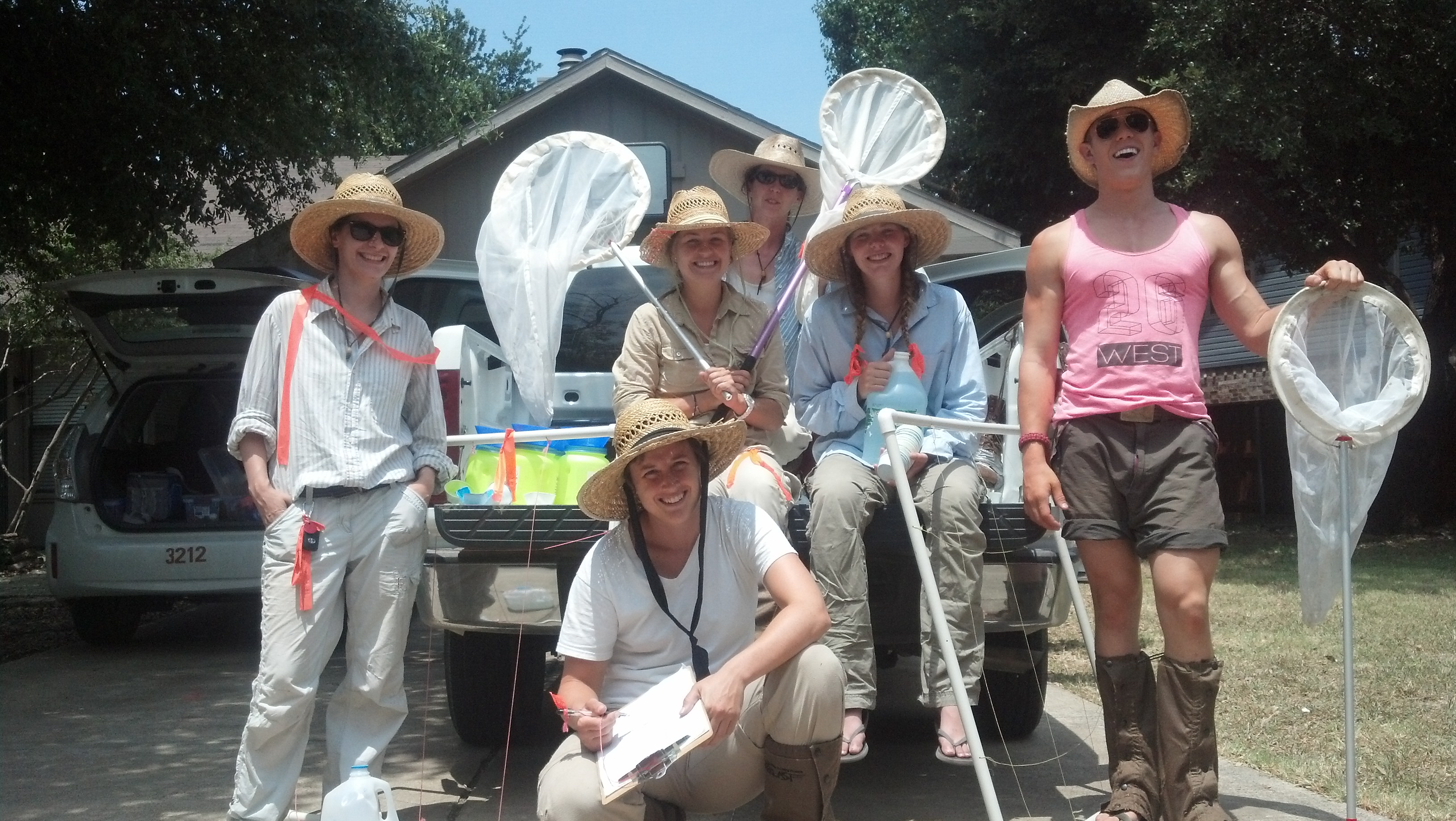 2013 Panama crew
 Working in the BFL Pollinator Garden! Let's save those pollinators!